Tree of Life Christian Schools has been educating children in central Ohio for over 40 years. In 1978, members from three local churches came together to establish a Christian School that could educate children in the Truth. The primary purpose of the school was (and remains to this day) to assist parents and the Church in educating and nurturing young lives in Christ.

WE ARE
PASSIONATE
ABOUT EDUCATION
Tree of Life Christian Schools is committed to the education of all students in the Truth of God's Word. Our philosophy of education is centered around the development of the whole child in this Truth.
Educating the whole child
Heart – Love Passionately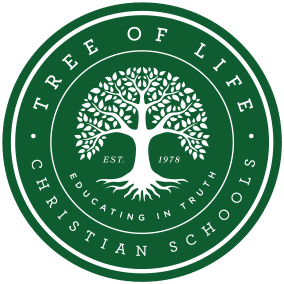 Accreditation
Tree of Life has been chartered by the Ohio Department of Education since 1979. Since then, we have continued to maintain the standards outlined by the State of Ohio for chartered non-public schools.
Tree of Life is also accredited by the Association of Christian Schools International and AdvancED, a part of The North Central Association Commission on Accreditation and School Improvement (NCACASI).
Tree of Life is dedicated to continually keeping a high-level of accreditation. Maintaining accreditation allows students and parents the assurance of excellence.
Sponsoring Churches
Though Tree of Life is not directly operated by any individual church, its families come from over 110 different churches and it is through sponsoring churches that the school maintains an active partnership with local congregations. The current sponsoring churches are:
Beechwold Christian Church
Discover Christian Church
Indianola Church of Christ
North Park Church of Christ
Rock City Church
Westerville Christian Church
Worthington Christian Church